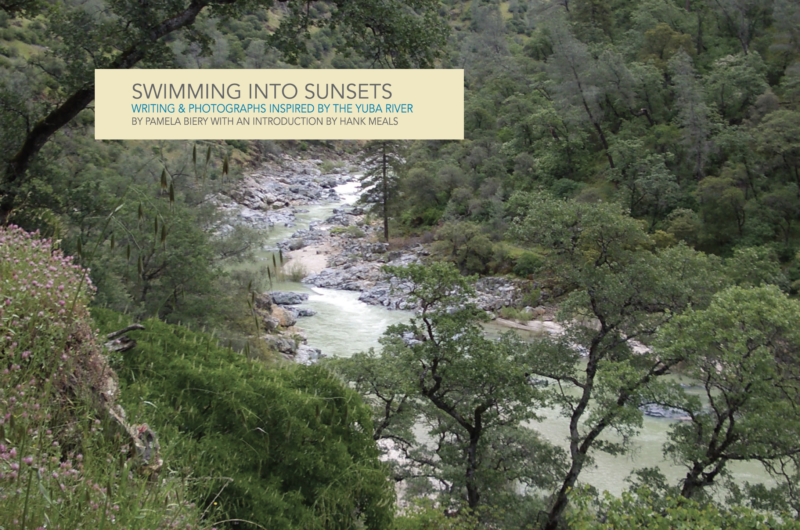 At the request of numerous readers, Swimming into Sunsets is now available as a printed chapbook. This 24-page chapbook is for at The Bookseller in Grass Valley, Gold Creek Inn, and Nevada City Chamber of Commerce in Nevada City.
Read about the author and chapbook here.
Poems and essays are also available for Kindle and any e-book reader and also for iTunes, as a multi-media experience.
The Yuba River can be seen as an actual objective phenomenon, or subjectively, as it is reflected in our feelings or culture. This is the subtle, but very real landscape, much of which remains invisible to our mind and hearts until we experience it. Through words the landscape is perpetually kept alive and the flat objective landscape is given identity

Pamela Biery's words and photographs reflect on the subtle and sublime world of the Yuba River. She experiences the river canyon by opening to it and letting it flow. We all respond to such splendor in our own way but few of us articulate it as well as she does.—Hank Meals, from the introduction, Swimming Into Sunsets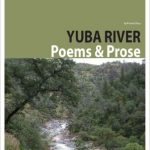 Yuba River Poems
This e-book is suited for Kindle and iBook reader. A slim chapbook of writings inspired by the Yuba River Watershed. As an e-book, strictly text.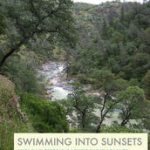 Swimming Into Sunsets
Designed for iPads and tablets, Swimming into Sunsets matches words with images for a media rich experience. This book is available for download with iBooks on your Mac or iOS device. Multi-touch books can be read with iBooks on your Mac or iOS device. All proceeds of this book will be donated to South Yuba River Citizen's League, for Yuba River conservation and stewardship.
Swimming Into Sunsets features an introduction by Hank Meals, author of Yuba River.