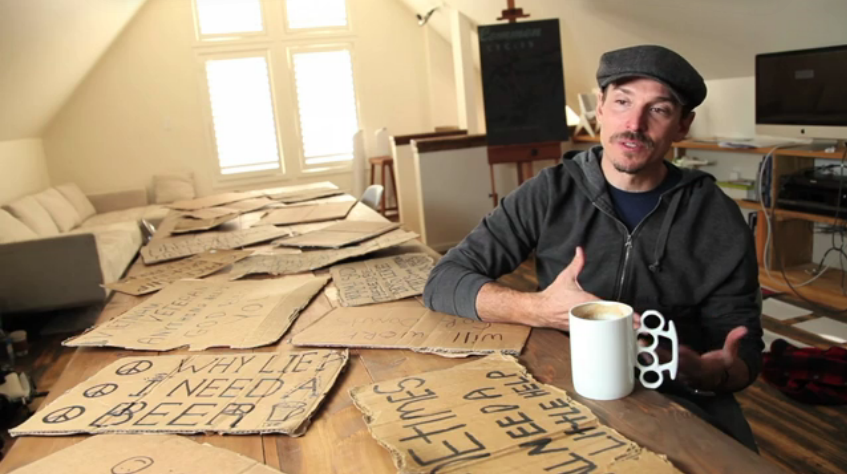 Tidily written on a piece of corrugate cardboard torn from a box, the senior couple stands near their usual corner in Boulder, Colorado: "We Never Thought it would come to This."
For many, the sign of the times is a piece of cardboard, held by a homeless person seeking food, shelter, work or perhaps just a smile. The 14 minute short film Good Karma $1 starts with an intellectual notion and follows it back to the human heart and a social dilemma without a clear solution.
Alex Bogusky, former Crispin Porter + Bogusky Creative Director, one-time star of Madison Avenue, saw these signs as a communication challenge, reducing the essence of advertising to the most basic premise. A few years back, he started collecting them, buying them from their makers, often for around $10.   Bogusky's accolades include Creative Director of the Decade, so named by Adweek magazine's Best of 2000s, and induction to the American Advertising Federation's Hall of Achievement. Since leaving the agency in 2010, Bogusky has been using his skills for sustainable change as a founding partner at Common and FearLess Cottage.
Good Karma $1 really began as a fascination by Alex Bogusky with street-level philanthropy and communication that happens through windshields and open car windows. Media team Kids At Play saw a break in their schedule and flew to Boulder, Colorado, where Bogusky is currently based, to take a closer look and film this documentary, a rare opportunity to direct with full charge of a creative project.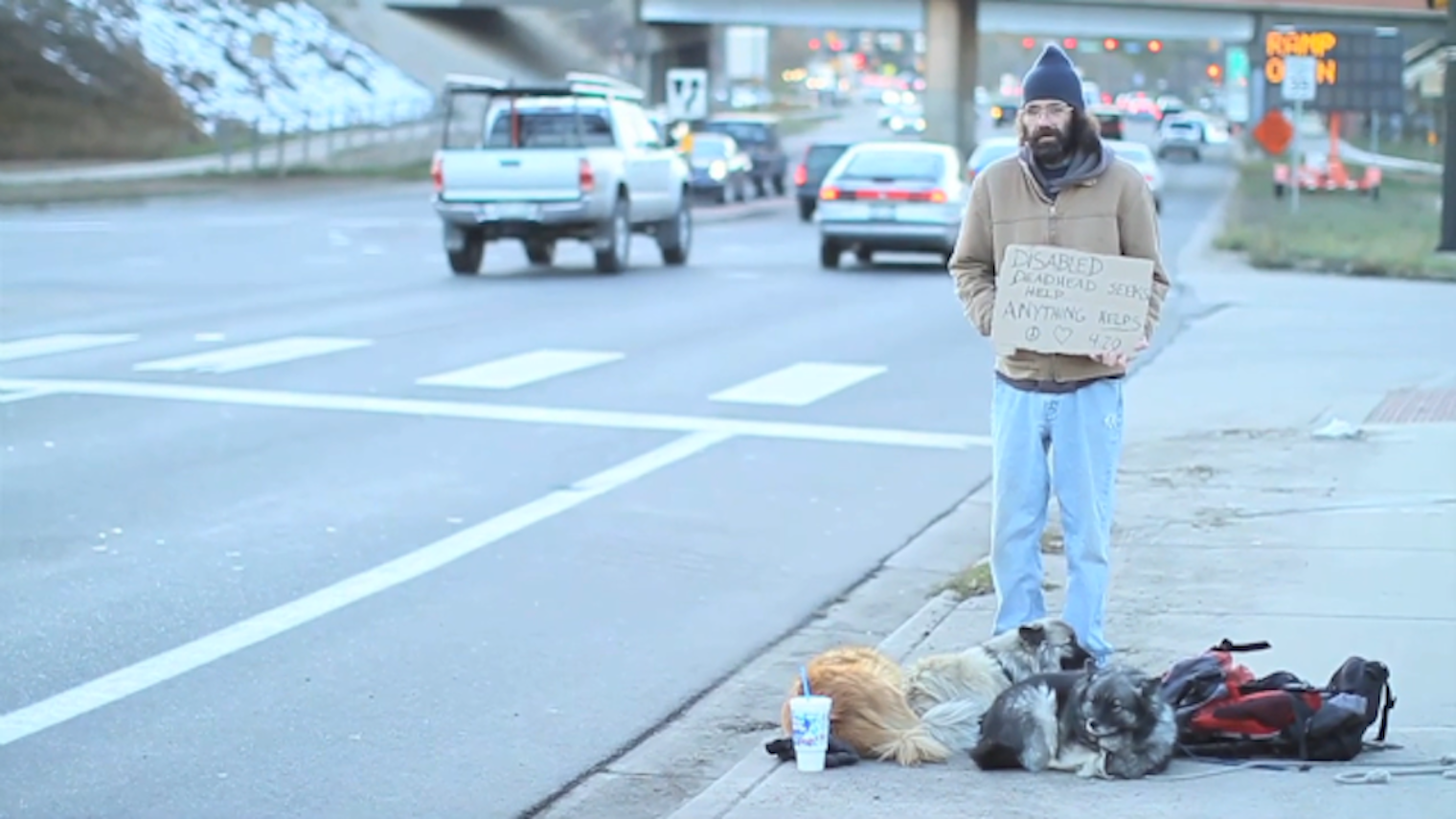 In the most classic documentary formula, the filmmakers became not just narrators, but they found themselves evolving with the story as a ribbon of exchange developed between themselves, Bogusky and the homeless sign-bearers being interviewed.
Bogusky's notion was a basic one, one advertisers face each day: can these signs be designed, stated or presented in a way to make more money? Director Amy Laslett found that at a certain point, the team understood that Good Karma $1 was not about signs, but about the people holding these signs and the barriers we put up to avoid confronting uncomfortable realities in our communities.
Good Karma $1 was co-produced by Kids At Play and FearLess Cottage. It has been accepted into numerous short film festivals through out the US and Europe.  Current screening dates can be found at: http://www.shootonline.com/go/index.php?name=Release&op=view&id=rs-web3-2741584-1345338730-2
On one of the last days of shooting, Bogusky took to the street with his own sign as a test for his advertising skill. Although well dressed and known in the community, when a colleague he knew well drove past, he failed to see the waving and smiling Bogusky. This was a lesson Bogusky and the film crew did not expect to learn—for many, holding a sign means becoming completely invisible.
Future plans being considered include a touring exhibit of the signs, online resources and possible airtime on cable television (yes, you can request on HBO, Current TV or Ovation).  The filmmakers would like to see the discussion continue into the educational realm as well, possibly supplementing curriculum in middle grade or high schools.
Good Karma $1 left me with a greater understanding of daily habits that insulate me from the world I live in. A worthy view. In a few short minutes, smile, shed a tear and open the window to fellow humans.
http://www.kidsatplaymedia.com/work/good-karma-1/
About
Kids At Play (KAP) is a one-stop production company that creates content for motion picture, television and digital mediums. KAP team is young, eager, creative – and nimble, allowing for immediate starts on some of the most compelling projects in video.  Good Karma $1 screening inquiries can be directed to play@kidsatplaymedia.com.
Learn more about Alex Bogusky's current projects at http://www.common.is and fearlessrevolution.com/