About 5 years ago I had my first run-in with urbanism–a word I had rarely encountered and seldom really considered. A new community was being proposed, and the developer hired some leading planners to discuss the benefits of walkable communities, with moderate density and local economies. Near this time I became familiar with Chuck Durrett and Katie McCamant's great work in planning cohousing communities. Cohousing combines private homes with common facilities. Proponents are quick to describe cohousing's energy, efficiency and quality of life benefits.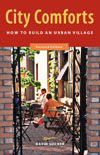 My head was further turned as I looked at examples of auto-driven suburbs transformed into friendly neighborhoods, with small business storefronts, bicycles and mass transit.  I was delighted this spring to find David Sucher and his book, City Comforts, an everyman  guide for pedestrian-friendly urbanism.
I had long noted that once a building is up, it stays up–the energy, costs and time seem to produce a kind of intertia, making it all the more important to consider what is built. Grieving over antiquated strip malls, I had not considered the inverse of this–city parks can almost perpetually reserve green space.