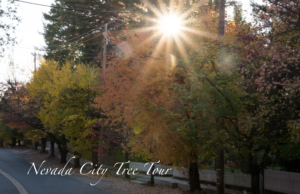 A little over a year ago I started thinking about how great Google Maps is for tracking, developing and sharing projects. I put this together with Nevada City's Tree Tour map. I had worked with Ellen Solomon getting her project into print and completed in 2008, and the maps were almost gone.
Wouldn't it be great, I thought, if we could have this information on Google Maps, and there began the project. A project without funds, but thankfully with a home through Nevada City Chamber of Commerce.
Through volunteers, sponsors, community members and even a grant, the project is now complete—well, almost. It would still be great to get numbers on the map pins, but this detail will need an little boost to get done.
Thank you sponsors, and especially Zeno Acton, Greg Archbald and Randall Frizzell, whose technical expertise and assistance made it happen. The production of the Nevada City Tree Tour has been supported by California ReLeaf, Pacific Gas & Electric, the Nevada City Chamber of Commerce, with the sponsorship of Acton Arboriculture, Inc., Byers LeafGuard, Gold Creek Inn B&B, Three Forks Bakery & Brewing Co., and GoFundMe.com donations.
Check out the map here.