There is so much writing to be done, places to explore and moments to be shared, I find it hard to dedicate a wee bit of time to discuss unfolding life, here in this blog. So forgive me and let me shortcut to the heart of what's at hand without further fanfare.
This season I've been excited to get several commemorative poems written, and (bonus!), published. At last something useful to do with poetry: save cherished moments and honor dear friends at the same time. The California State Poetry Society published 'On Becoming 21st Century Women' this fall and will soon publish 'Persimmon Pudding'—a winter poem set in Tahoe. These quarterly books are available to order at CaliforniaStatePoetrySociety.org.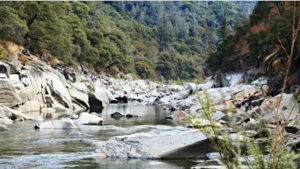 The 16th Annual Wild & Scenic opens January 11. Read about how and why the South Yuba River Citizen's League was formed here, in Sierra Living magazine. Sierra Living was formerly Sierra Heritage magazine and this new publication sets a fresh tone, while retaining cultural content. Learn more about the lasting impact of the Wild & Scenic Film Festival and other projects being used at models in other places here, at community supported news source, Yubanet.com.
My poetry chapbook, Swimming into Sunsets is now for sale at The Bookseller, Gold Creek Inn and at the Nevada City Chamber of Commerce office. A percentage of profits are designated to support Yuba River conservation by donation to SYRCL. This book is also available on iTunes as an iBook here.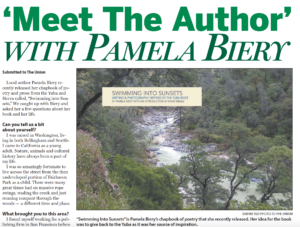 Finally, thank you to The Union for this very nice opportunity to have my say, in the kindest way—in my own words. This 'Meet the Author' column is a bit humbling. Appreciate this and new city reporter, Matt Pera.