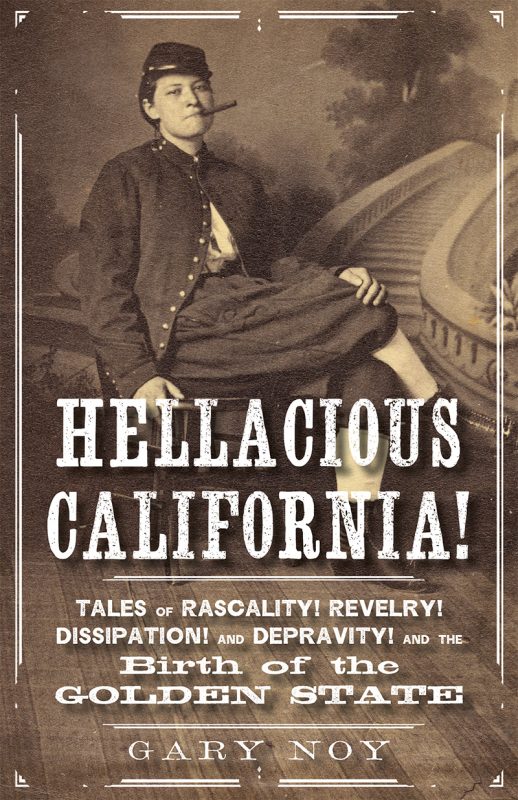 Historian and scholar Gary Noy's new book "Hellacious California: Tales of Rascality, Revelry, Dissipation, and Depravity, and the Birth of the Golden State" is now out and available for sale locally and online. Published by Heyday Books in collaboration with Sierra College Press, this 256-page book provides a rare collection of cultural references, customs, and the roiling times in California's Gold Rush era.
Painstakingly researched and full of quips and tales as told in the late 1800's, Noy provides a real taste of California life during the Gold Rush. For those enamored with history of the West, it is a must read.
Nevada City and Nevada County have many mentions, alongside many Sierra towns. So, whether you are perhaps wanting a few more tales about Lola Montez, Lotta Crabtree or snappy quotes from Mark Twain, look no further. Want to know the real story of Grizzly Adams or badger fighting? Here's your book.
Sexual mores and charlatans as well as the protocol for duels, knife fights, and real mining claims are discussed in the terms of the day. Descriptions like "tableaux vivants" or a "piece of recklessness" hint at colorful language like hornswogglers, honey-foglers and humbugs in Noys' well-organized, entertaining read.
The Source section of the book is a treasure trove for those inclined to dig still deeper in the mines of California's colorful history, with many sources cited for each chapter.
Noy concludes after describing a great diamond hoax "This humbug was but one shard in the distinctive mosaic that was California in the nineteenth century. It was a heaven where fantasies could come true in an instant but also a hell where dreams could be unraveled in a long con."
Get The Book
"Hellacious California: Tales of Rascality, Revelry, Dissipation, and Depravity, and the Birth of the Golden State" is available at The Bookseller in Grass Valley, both in the store and curbside pick-up as well as at Harmony Books in Nevada City. Watch for author readings and events at Nevada County Historical Society and The Bookseller as well as other regional readings, including Auburn Rotary, El Dorado County Library South Shore Branch, and Sacramento—COVID-19 allowing. Purchase online at heydaybooks.com. Paperback, 5.5" x 8.5", 256 pages, ISBN: 978-1-59714-499-5, retails for $18. Event listings at http://www.garynoy.com/events.html
About Hellacious California
"Premier historian Gary Noy has created the finest and most entertaining compilation ever of stories documenting 'the best bad things' of nineteenth-century California.… Never before has this been so well told and supported by such a vast array of primary sources."―Gary Kurutz, Director Emeritus, California History Room and Special Collections, California State Library
About Gary Noy
For those not familiar with Gary Noy, his long career includes teaching history at Sierra College from 1987 until 2012. He founded the Sierra College Center for Sierra Nevada Studies and served as its director until his retirement. garynoy.com
Previous titles by Gary Noy include Sierra Stories: Tales of Dreamers, Schemers, Bigots, and Rogues (Heyday, 2014), which won the Gold Medal for Best Regional Nonfiction from the Next Generation Indie Book Awards, The Illuminated Landscape: A Sierra Nevada Anthology (Heyday, 2010), which he coedited, and Distant Horizon: Documents from the 19th Century American West (University of Nebraska Press, 1999).